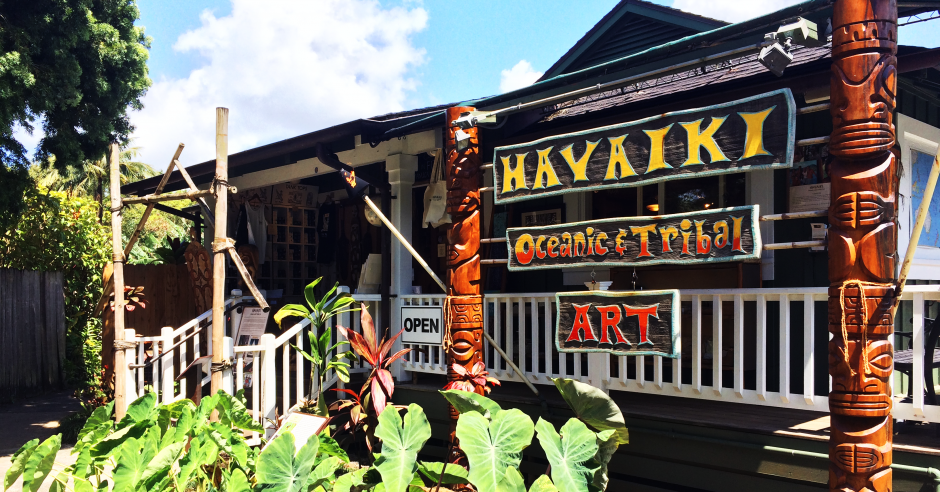 An interior view of the Hanalei Tribal Art Shop
The gallery/gift offers a carefully curated collection of one-of-a-kind primitive treasures.
In the whimsical town of Hanalei on Kauai's lush North Shore, a tribal art shop adorned with tiki poles and flaming torches beckons passers-by inside. Venture on the veranda (porch) and you will experience an authentic sample of Pacific Island history and culture.
Havaiki Oceanic and Tribal Art is part gallery and part gift. The museum-like shop features a carefully curated collection of one-of-a-kind primitive treasures, like an octopus decoy from Hawaii ($325), spirit masks from Papua New Guinea ($225-$795 ), hand-carved koa wood bowls from the Solomon Islands ($495), cannibalistic forks used by participants in Fijian ritual feasts to feed those deemed too holy or regal to feed ($495) and a decorated ancestral human skull from the Asmat tribe of West Papua.
Each element has a story. And each story is rooted in the unique Oceanian traditions still practiced in some of the most isolated regions of Polynesia, including Hawaii. While many items cost thousands of dollars, there are plenty of low-cost gifts – wood-carved turtles ($4.50), Kauai sea glass necklaces ($38), Hawaiian tiki replicas ($175) – available for those who want to bring home a more affordable part of Polynesia.
Much of Havaiki's inventory was collected by hand by gallerists Jim and Vicki Punter and Dylan Thomas. In 2002, the trio embarked on a 40,000-mile sailing adventure aboard the Punter's 84-foot-long ketch named Firebird. The five-year journey brought them to the shores of some of the world's most remote regions – Tonga, New Caledonia and the Society Islands, to name a few – where they fulfilled their boat of intriguing and witty works by craftsmen living in small villages isolated from Western influence. Havaiki is full of these otherworldly works of art as well as local Hawaiian art and pieces from the private collections of other expeditionaries. The owners of Havaiki intend to help the people of Oceania continue their rich traditions and culture by funding authentic Oceanic art and sharing it with visitors from around the world.
"Everyone is just shocked when they walk in," says Vicki Punter, co-owner of Havaiki. "The phrase we hear most often is, 'You've got some really, really cool stuff'."
Open daily from 10 a.m. to 5 p.m., Havaiki's name is derived from the fabled homeland where Polynesians believe their spirits are born and return in death. The store is located near Kuhio Expressway in downtown Hanalei.
5-5161 Kuhio Highway, Hanalei, 808-826-7606, havaikiart.com.