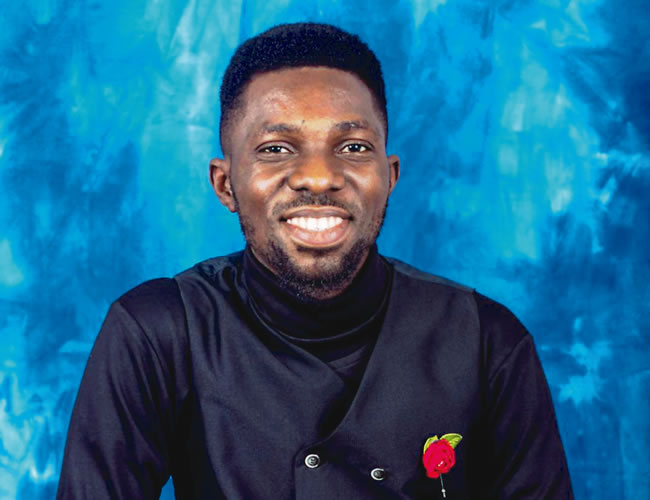 Doing sketches is not stand-up —Herbegbeyin
Blessed with abilities to sing, crack jokes and come up with solutions, stand-up comedian, OyewoleAdeniran otherwise known as Herbegbeyin has been in the entertainment industry for over a decade and has become a household name. with his brand of comedy. In this interview with SEGUN ADEBAYO, he talks about how he combines comedy, music and other things.
You are a comedian, accountant and musical director. That's a lot of commitments on your part in different professions. How did you cope?
I managed by the grace of God. All three are individually demanding but I enjoyed an unusual grace from God to run with all three and I am grateful to God. Even though I had to sacrifice a lot of my time for this and it is truly a blessing to do this.
Being an accountant is about accomplishing tasks in itself, what was the appeal of accounting in the first place?
Growing up, I always knew I would be an accountant. Not because I saw it as my way to get rich, but I like to know more. As someone who likes things/records to be kept in a well-organized manner, I later became convinced that God wanted me to learn from this experience. My late mother always called me "my accountant" even when I was still in the "JSS" class. To the glory of God, I graduated as the chair of my department and second best student in the department.
When did you decide to go into comedy?
Comedy was built in; I will only say that I turned pro in 2010, learning the science behind stand-up and all that it entails. Until this day we continue to grow and develop the craft, so always expect the best from me. I started doing sketches in 2016 and so far it has been a wonderful journey.
Music is also what you like to do; you seem like a complete package for anyone who needs your services. Doesn't that come with conflicts of interest?
By the grace of God, I am a complete set of entertainment. It helped my career tremendously. It put me on some really big platforms and I'm grateful to Herbegbeyin Nation for that. They share my content and also refer me for events.
In Lagos, where you operate, many creatives are also fighting for space and attention. What makes you different?
What God has placed in me is unique, precious and incomparable. I don't need to fight for space and attention. Through consistency, originality and creativity I was able to create a niche for my brand and by the grace of God we are growing. Just like my wonderful friend will say, if they're kicking you out, get up and draw your own line.
How do you deal with competition because you can't deny that there is no competition in the industry?
Yes, there is competition in the industry. However, a wise man will not compete with those who do not know where he is going. Everyone's place in Destiny is different. I think it's the lack of purpose and direction that makes people use the accomplishments of others to measure their own success. I prefer to collaborate with my colleagues than to compete. I dedicate myself to competing with myself every day. I just want to be a better person than I was yesterday. I think readers should do the same.
When you look at what the comedy industry has become today and how it was, do you think the growth has been positive for the industry?
The industry has grown to become a multi-billion naira industry today and this is an undeniable sign of progress. I can only appreciate the efforts and contribution of wonderful people like King AliBaba, Ay, Basketmouth, Okey Bakassi, Julius Agwu, I go dye, Klint da ivre, Gandoki, Koffi Da Guru, Teju Babyface and many more who have made the industry appreciable today. The Nigerian comedy industry has grown to such an extent that it is marketable on international platforms. Today, we have seen many Nigerian comedians leaving the coast of the country to host comedy shows in different countries and they have recorded huge successes.
What do you think of online comedians trying to break into mainstream comedy? People think they don't have what it takes…
Skit Making is not a stand-up comedy. Using effects, soundtracks and other technical concoctions on a short video to make people laugh is not a justifiable reason to show that the person has talent. While comedy is divided into several genres, being a skit maker does not automatically qualify you to be a stand-up comedian. Some are good at succeeding in both. It is important that your self-esteem not be damaged as an actor. It doesn't matter what people say about you. How about yourself. If you know you have it… go for it.
As a music expert, why not focus primarily on music?
Laughs) … For me, Music and Comedy are inseparable. Even at rehearsals, I have a way of making people crack up. I've written a lot of musical content and am working on more. I would have disappointed the expectations of the creator of heaven and earth who gave me the talent and the ability to do music and comedy well and other things.
How has it been staging your popular show Herbegbeyin Undiluted over the years?
The experience was awesome. It opened doors for me in the industry and introduced me to prominent Nigerians. It's an honor to see people come together to have a wonderful time in a decent way.
READ ALSO FROM NIGERIAN TRIBUNE
What gave the name of the show?
Some know me as a comedian/mc, some know me as a musician, the name of the show suggests what you are likely to get when you attend. Showcasing the grace I have as a comedian, musician, mc.
What should your audience expect this time around that's different from what they're used to?
This year, it will be comedy, music and games. There will be gifts for those who participated. HERBEGBEYIN UNDILUTED 4.0 will be super entertaining and engaging. This year, we will have the best comedians in the industry as well as very dynamic musicians.
How much comedy do you do?
I am grateful to God for the success I have had and hope to do more for myself and for people around the world. The fact that my gift blesses people makes me happy. Impacting lives in a wonderful way gives me joy.