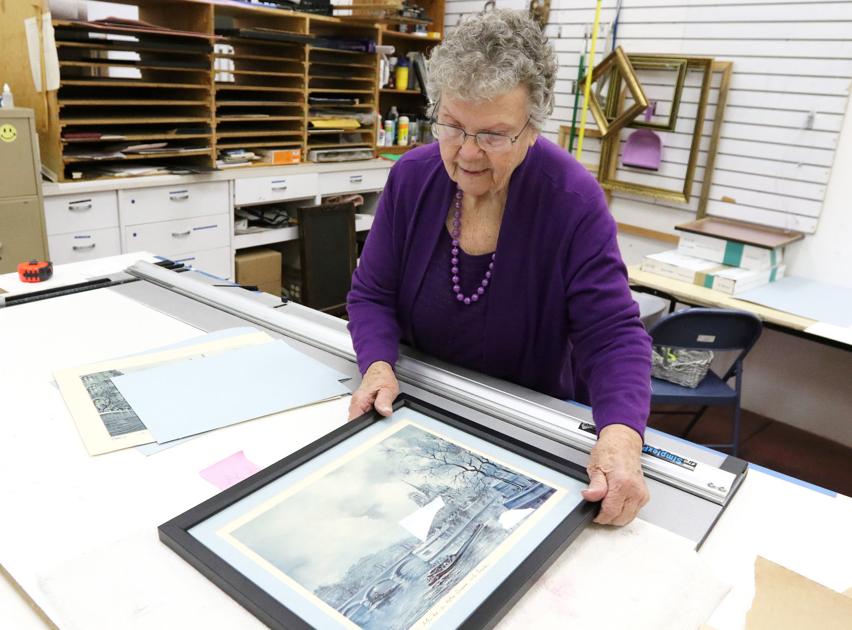 For Sale: Art Shop With Love | South County
[ad_1]
MYRTLE CREEK – Bonnie Gregory has put her Ye Olde Art Shoppe up for sale in Myrtle Creek and it's hard to argue with her logic.
"I'm 90 years old and it's time to retire," she said.
Ye Olde Art Shoppe is an art gallery, framing shop and art classroom all in one. But it is also a community crossroads, art being the connective tissue. Most of the 30 or so students who come to paint each week are seniors, and the store gives them the opportunity to connect with other art lovers and get some paint under their fingernails.
Quietly, tirelessly, for nearly 20 years, Grégory has achieved everything.
"She has the heart of a mom and she loves art," said Helen Fortner, artist and instructor at the store.
Gregory drew some as a child, but it wasn't until she retired and moved to Oregon that she started painting. A neighbor dragged her to a class and she got hooked. She opened Ye Olde Art Shoppe in 2002 for admittedly selfish reasons.
"The owner died and we didn't have a place to paint," she said. "That's how it started, just because I wanted a place to paint."
His niece, Linda Johnson, runs the business side of the store and Gregory takes care of the art and the setting. For a while she had a framing machine but got rid of it, so now she's doing the job by hand.
"I just learned how to do it," she said. "It's not that hard."
Besides doodling as a child, there's not much in Gregory's past that would prepare her to become an art gallery owner.
She grew up on a dairy farm in El Centro, California, near the Mexican border. After graduating from high school, she went to work for the telephone company and then got a job as a machinist.
"I loved it," she says.
She retired in 1977 and with her husband moved to Oregon, settling in Myrtle Creek. She married 60 years before her husband died. She has a son and a daughter, Susie Gregory, who has been helping the store for five years.
Students pay $ 10 per class and the money goes directly to the instructors. Students come from all over the region, including one from Coos Bay.
Fortner, an artist herself, has known Gregory for 15 years and is perhaps his biggest fan.
"How many people are sole proprietors of a business by the age of 90?" She's amazing, "Fortner said. "I support the gallery in any way I can. "
Classes are a mix of artwork, social hours and therapy sessions. Gregory provides food – on a recent day she had fries, pistachios, homemade muffins, and drinks.
"It was just something that we started doing and now they're expecting it," she said of the refreshments.
Linda Novakovich has been taking art classes at the boutique for over a decade.
"As soon as I retired the following week I was here," she said. The attractiveness of the classroom can be difficult to express.
"Part of it is the friendships you make," Novakovich said. "The class is like therapy, there is a lot of laughter. It's good. We just hate to see this thing shut down. I want to continue painting. This is what we all hope to do.
Another student, Ned Van Cott, 92, is a retired engineer who has been taking art classes at the store for a decade and has completed more than 100 paintings. He summed up his reason for coming in three words: "Because it's fun. "
Van Cott is about to give a lot of that fun. He is known as the class prankster. Classmates still talk about the time he brought them all together for a group photo and then pulled out an antique camera adorned with half a dozen miniature mouse dolls and a tiny flashlight, for the bigger one. class fun.
"Bonnie is such a nice person. I'm sorry it is closing, "he said.
Gregory turned 90 on September 30. It's time to hand over the reins to a new owner, she thinks. A few weeks ago, with the help of her daughter, the store posted the following note on Facebook:
The current business owner turns 90 this year and is ready to retire!
The owner doesn't want to close the doors, she wants someone to replace her and loves the art and the framing as much as she does
The owner will train if necessary
Art classes are currently held on site all year round
The owner had the store as a hobby and painted herself
Seller will consider all reasonable offers
LAST DAY DECEMBER 6, 2019. See you soon, first come, first served
Gregory said a real estate agent had put the business up for sale for a while, but there had been little interest.
Fortner said she plans to hold classes in the garage at her Canyonville home for now. But she still has the hope that an owner – someone special – will step forward.
"Running a gallery like this takes heart and anyone who buys it needs heart," she said. "Art is just your talking heart."
Gregory also said she hopes someone will maintain what she created at Ye Olde Art Shoppe.
"It was funny. I have mixed feelings about retirement, but it's about time," she said. "I just want a place where artists can go. It's kind of like the family here.
Journalist Scott Carroll can be reached at [email protected] or by phone at 541-957-4204. Or follow him on Twitter @ scottcarroll15.
[ad_2]