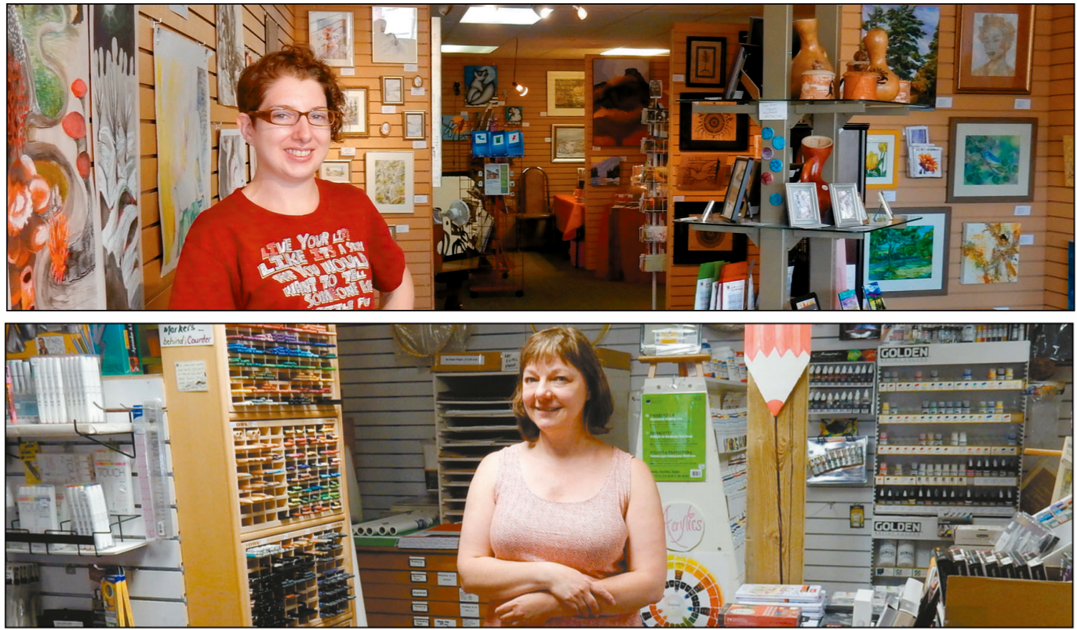 Gallery and art store fit together perfectly | Artistic scene
BY DUNCAN WELLER
---
MANAGED separately but united under the same roof, a young Kristen Wall has been running Gallery 33 for two and a half years while her cohorts, Lorraine Cull and Angie Jenson have run the Painted Turtle Art Shop for fourteen. Together, they have served Thunder Bay well with art exhibitions, providing art supplies for individuals and groups – especially schools, offering classes, and contributing widely to the community. Further progress was made with their move from downtown north to the corner of Balsam and River St. next to George's Market, where they were given free parking and a walk through traffic.
About forty visual artists and ten authors are represented in the gallery where sections of the wall and displays are rented to new and emerging local and regional talent.
Quality and variety vary, but there is enough amazing artwork to make the gallery a professional space with notable artists. Other items such as soaps, jewelry, books, cards, carvings, pottery, glassware, and prints are sold everywhere along with specialty items like Wolfhead Coffee and Chocolate Cow. The chocolate will be restocked soon as it used to melt during the summer months.
As part of the artist support mission, the public is offered courses, the most popular being the Paint and Wine Nights, which take place several times a month. These are public and private parties, a fun way to get together with friends and try out acrylic paints. As fall approaches, classes are offered to children and youth where they can draw and paint in watercolors and oils.
At the age of twenty-seven, Wall graduated with an Honors BA in Fine Arts and lived in Thunder Bay his entire life.
"I've always been in the art," Wall says, "I always imagined that the business would be attached to my house, but this opportunity fell from the sky and I jumped on it. The work is a lot more commercial than I expected, but I was able to shape it into the image I wanted, i.e. give the gallery a warm atmosphere.
With a faux fireplace and beige colored walls, Wall designed the space to be warm and inviting, unlike a typical gallery space with white walls.
Wall had little time for his own art, earning part of his living teaching most of the classes. Other income is generated by art commissions, the rental of space and the occasional sale of one's own art. Artists Linda Dell, Ken Crawford and Betty Nash have been invited to teach. Soon René Beerthuizen will teach oil painting.
Around the corner of the gallery springs up a virtual exhibition of potpourri sweets for artists. Here is the Painted Turtle Art Shop where you get that magical sense of opportunity, where you can enter other worlds by creating your own portals. Shelves filled with sparkling art supplies are offered to professionals and novices alike, the tools of the trade that every artist and aspirant needs to play or get serious. It is a challenge worth taking up.
Formerly owned by artist Ruth Tye-McKenzie, the art supply store moved before co-owners Cull and Jenson took it over in 2003. Jenson spends his time managing the books and the waterfront baggage building these days. -this. Cull is the constant pillar of the store and therefore a virtual window on the artistic community. Recalling the days of Norval Morrisseau and Roy Thomas, Cull offers tales of savage artists and artistic crimes that I cannot disclose. Instead, I can say that Cull is a wonderful source of information on supplies, local talent, and events.
The painted turtle has been a major contributor to the city. With their long list of board members, they have improved the arts in the city with donations to schools, gallery exhibitions, and by recognizing and rewarding high school and university artists through their own exhibitions.
Today they have a sale to celebrate Wall and Cull's combined birthday with a We Love Puppies Day birthday party. If you don't have a puppy, you can still get a bonus and win a prize by donating to Puppy Rescue.
Starting September 5, The Painted Turtle Art Shop and Gallery 33 are open Monday through Friday 10:30 a.m. to 5:30 p.m. and 10:30 a.m. to 3:30 p.m. Sunday.
---
Duncan Weller is a writer and visual artist. You can find it on Saturdays at the Country Market or its gallery at 118 Cumberland Street. Discover Weller's exhibition on September 22 at 7 p.m. in his gallery. You can write to him at [email protected]