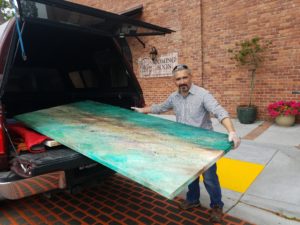 Little Art Shop is getting ready for the birthday
[ad_1]
The Little Art Shop is about to mark a year in Benicia, and it's been a hell of a ride for the gallery.
On June 3, 2017, The Little Art Shop opened in the historic tannery building. The boutique, which co-owner Rejina Christopher described as a cross between a gift shop and a gallery, has several member artists specializing in forms such as pottery, sculpture, paintings, sketches, fused glass, jewelry. , functional ceramics, candles. , body products, mosaics, assemblage, metal art, greeting cards and other items available for purchase.
The store also helped fellow tannery tenants. In January, Elizabeth Kurt – the co-owner of future restaurant Bella Siena – was working hard on her new restaurant when she walked into The Little Art Shop. After being impressed with the art she saw, Kurt received an offer from Christopher to find artwork from the 26 artists at The Little Art Shop as well as from partner studio Once Upon a Canvas to provide artwork. that would be adorned with over 100 feet of wall space in the restaurant. Among the exhibits on display are "enlightened" abstract works by Sharon Campbell and textured summaries depicting the coastline of Benicia, Napa and Siena, Italy, by Jose Luis Varto.
"The Little Art Shop is delighted to be working with the restaurant on this project," Christopher said in a statement. "We have a diverse group of local artists with many years of experience who are excellent at their chosen media."
Bella Siena will serve a mix of Italian and American cuisine in the space formerly occupied by the Shoreline Restaurant. While no opening date has been announced, teams are going through a busy and fast-paced remodel process. For more information on Bella Siena, visit bellasienarestaurant.com.
The celebrations don't stop for The Little Art Shop. On Saturday June 2, the store will have a birthday party with music, gifts, snacks and discounts on many items in the store. Lyn Lasneski, an award-winning artist who creates intricate and detailed paintings without the use of brushes, just her fingers. Lasneski will be at The Little Art Shop Saturday from 2 pm to 5 pm to discuss his finger painting techniques, his artistic vision and his upcoming book "Creative Genius".
The Little Art Shop is located at 129 First St. For more information, visit facebook.com/thelittleartshop.benicia/ ​​or call 771-6667.
[ad_2]