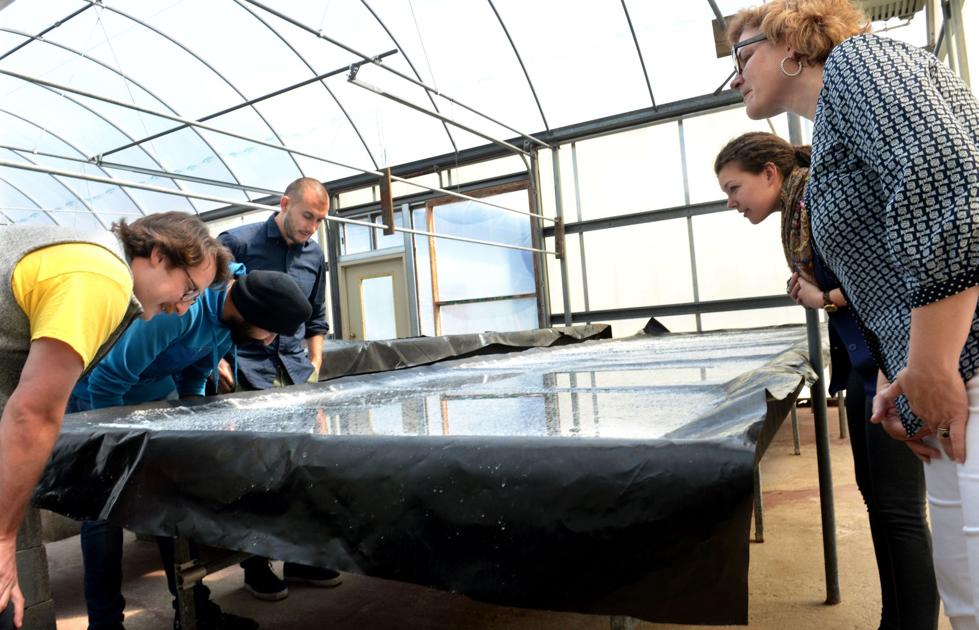 MBA Students Help Salt Maker Malden Build Online Marketplace | Company
Fresh eyes and a fresh perspective can fuel business growth, even for a business that has been around for a few years, like JQ Dickinson Salt-Works in Malden.
That's what co-founder Nancy Bruns said after the salt-making company, which began in 1817, received help last week from four University of Michigan MBA students to develop an online marketplace for Appalachian food and craft vendors. The students spent a week at the company and gave Bruns a 32-page report on Friday on how to grow the website and get more businesses in the area to participate.
"I think as a business owner it's easy to get caught up in the day-to-day work and lose sight of your long-term vision," Bruns said. "I've always wanted to have a platform for local growth, and having this expertise in town to help me is something I don't want to refuse."
The students visited JQ Dickinson Salt-Works as part of the University of Michigan's Ross Open Road initiative, based on Harvard University's Across America MBA program, which helps local businesses across America to achieve their community development goals.
This year, three teams each visited five small businesses in five weeks. The WCKD team, consisting of Wiles Kase, Colleen Hill, Kenji Kaneko and Dilparinder Singh, made their final stop at JQ Dickinson Salt-Works.
The program helps students gain experience outside of the classroom by immersing them in real life situations where they are required to quickly learn about the company and its situation, Hill said. In return, companies receive help from students in anything they aim to implement, whether it is strategic planning, awareness and marketing, or adjusting some aspect of their business. operations, she added.
"This attracts an atypical business student who wants to understand local businesses across the country," Hill said. "A lot of [the program] concerns the social impact that these entrepreneurs can have if given the right direction.
Traveling by rental car, the team began their trip to Michigan, helping the Detroit Training Center launch a program connecting Flint residents with employment opportunities. The team then traveled to Omaha, Nebraska, to help Gilden Tree, a small business specializing in eco-friendly body care products, followed by Ba-Nom-a-Nom of Denver, which sells a fruit alternative to ice cream. The fourth destination was New Orleans, where the team worked with the Roots of Renewal community development association in New Orleans on a marketing campaign.
After wrapping up their week with Roots of Renewal, the team was eager to help JQ Dickinson Salt-Works in his efforts to boost similar businesses in the region.
"When we learned [Bruns'] passion for community development and helping entrepreneurs in this field to sell their products nationwide and get more business, that intrigued me and all my teammates very much, "said Hill.
The JQ Dickinson Salt-Works story also caught the team's interest, Hill said. The business dates back to when the Dickinsons first drilled for brine – the source of salt – from the ancient Iapetus Ocean beneath the Appalachian Mountains. The Kanawha Valley rose to prominence in salt production soon after, but Dickinson's salt trade eventually died out in the 1940s, Bruns said.
Bruns and Lewis Payne, two descendants of the Dickinson family, relaunched the company in 2013. The company still uses the Iapetus Ocean as a source of brine, which is evaporated in solar greenhouses, and then the remaining salt is harvested at the hand. This salt is then packaged and sold to customers, which include more than 500 different retailers and restaurants nationwide, according to Bruns.
With JQ Dickinson being the last stop on the tour, the WCKD team had gotten used to the initiative process for each company.
"We arrived on Sunday and Monday, we've gathered all the information we can about the company," Kaneko said. "On Tuesday we started to take charge of the project and understood what we really wanted to do with [J.Q. Dickinson Salt-Works'] online platform.
Ahead of the team's visit, Bruns said she originally wanted JQ Dickinson Salt-Works to help distribute products from local suppliers to retailers. That quickly changed once the students arrived and noted the low profit margins involved in going through a middleman, and instead suggested developing a website where sellers could show and sell their products, according to Bruns.
Bruns said she liked the idea because it still worked towards her goal of helping local businesses, including her own, expand their presence nationwide. About 13 companies are considering entering the online marketplace, including Brookstone Soaps and Bluestone Mountain Farm, she added.
"There really is a future in Appalachian cuisine," Bruns said. "If we can partner with and promote other artisans and suppliers, it can really help everyone in West Virginia grow."
Kase said many of the initiative's companies are startups without a lot of capital or an established brand to work with, but JQ Dickinson Salt-Works was the opposite.
"We have been able to operate at a higher level here on the strategic and tactical spectrum," he said. "So we can really make their project bigger and better than what we've done before. "
Bruns said she hopes programs like the Ross Open Road initiative will make West Virginia a frequent stop to help local businesses in the state improve and improve others.
"I feel very lucky to have been a part of the program," she said. "It's hard to say in words how valuable something like this is to a business. "