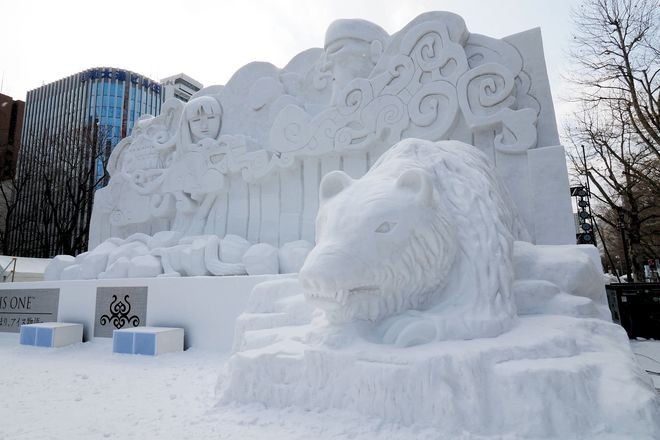 Sapporo Snow Festival cancelled; scheduled online viewing
SAPPORO–The annual Sapporo Snow Festival, one of the country's biggest winter events, is to be held online for the second consecutive year due to the rapid spread of the Omicron variant of COVID-19 in Hokkaido after the start of the year, the executive committee said.
Held annually since 1950, Hokkaido's winter tradition was scheduled to take place Feb. 5-12 in the city's Odori Koen Park for the first time in two years. Past annual attractions, sometimes with over 300 ice and snow sculptures of famous pop culture figures and landmarks, drew mmore than 2 million visitors, national and foreign.
Initially, it was planned to display only 10 statues of smaller size instead of massive statues which traditionally attract visitors.
Although snow was hauled to the park to build the sculptures, the work in progress will be demolished, the committee said.
Instead, a video to be posted from February 5 to 28 on the committee's official website will show how a snow statue is created at another location. However, details remain under wraps at this time.
A photo contest will also be held on the website, and handicrafts and other locally produced items will be sold online.
"We have no choice but to cancel an event that traditionally draws large numbers of people in light of the unprecedented rise in COVID-19 cases across the country," the mayor said. Sapporo, Katsuhiro Akimoto. "We, in tandem with the executive committee, are trying to find ways to entertain attendees online."